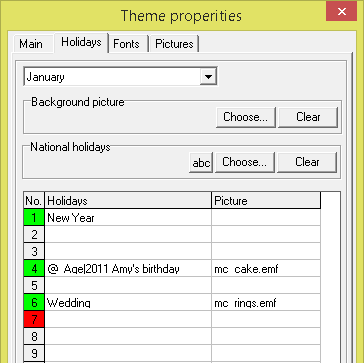 On the Holidays tab you can to define own holidays.
Additionally preceding the description of the holiday by the sign * putting the day by the number will cause icons (choosen on Images tab). An icon may be choose (vary on every day) also by double clicking on Picture column.
Using the slash sign / in the description of the holiday causes moving the text being found behind the slash to the next line.
In the holiday's description you can use the variable: @_Age|year, where instead of "year" type the year from which application will calculate anniversary (example: "Amy's @_Age|2001 birthday" will replaced (in 2017) by "Amy's 16 birthday" on then printout). The variable you can also use to calculate anniversary other important events.
Colors in
No.
column mean:
Green

- the holiday defined by user

Orange

- national holiday

Red

- Sunday

Grey

- a day without defined holiday.
Buttons in Background picture group allow to choose or/and delete picture (mostly photo) forming page background.
Buttons in National holidays group allow add official, national holidays to every month.