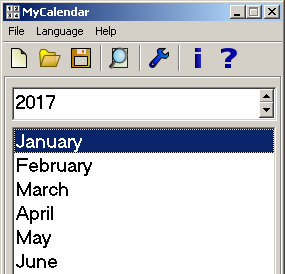 In the main window of the program the user has the possibility of choice of the year and of the month, for which the printed calendar will be.
Additionally, on the menu of the program the following options are available:
New causes closing the existing theme and opening the empty one,
Open... causes opening the window of choice of the file (theme) with defined holidays (HOL extension),
Save lets to save modyfied theme,
Save as... lets to save modyfied theme in new file,
Properties opens the window in which is possible editing of parameter of theme, among others: own holidays, fonts, images used in calendar, etc.
To the purpose of the alteration of the list of the standard name day one should open a file e.g. in the Notepad default.ini, being in a catalogue holidays
In order to change the program languague, click on the menu
Language
. Available languages: polish, english and spanish.